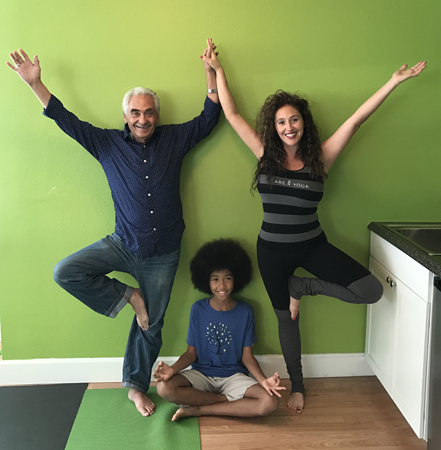 Dangling from the threads of an unraveling rope, Sahel Anvarinejad tried eating the right foods and taking on what mild exercise she could manage in order to help her endure the debilitating effects of chemotherapy for her non-Hodgkin's lymphoma. With no hair, appetite, or zest for life, this mother of one fought hard. On a recommendation from a friend, Sahel turned to yoga in order to boost her energy, healing, and hope. She could never guess this trial would lead to a future of helping others in her position, a lesson her child, too, would inherit.
Six-year-old Tabay, Sahel's son, watched as she took up yoga and dove into training. "She healed mentally and physically, and could walk on her own," said Tabay, now 10. Sahel couldn't believe how good she felt after each yoga session. She decided to help her son learn yoga, to deal with his own stress caused by her illness. She began taking more classes and training in order to become certified in 14 different areas of yoga. As a result, young Tabay was inspired to get trained himself. Recently he became the youngest certified yoga instructor in the country.
When Sahel couldn't find a studio in Orange County teaching yoga to children (at that time), she decided to open her own. In 2012, Sahel opened Care4Kids in San Clemente. She uses creative techniques in order to keep the children engaged. "Yoga helps kids who are suffering though problems with family and friends. It gives them tools to help them get through life's difficulties." The students with whom she works are more than just pupils in her class. Sahel helps them emotionally, too, and makes herself available in order to guide them through anxiety, depression, and stresses at home and school. "I wish that I knew about yoga as a kid," said Sahel.
Sahel offers yoga for physical education in several schools and has earned specialty certificates in order to be able to teach children, teens, cancer survivors, and children with autism and other special needs. She provides free yoga to those suffering through cancer or the after-effects of chemotherapy. She is paying it forward in more ways than one. Inspired by the transformation he witnessed in his mom's health, Tabay forgoes payment for his classes, requiring his students to offer a donation to cancer research instead. His passion to help children who are suffering from cancer is a large part of why he chose to get certified.
Sahel's yoga studio accommodates the needs of people in all stages of health, and of all ages. "Peace begins with me. Kids as young as 3 begin to grasp the peace, happiness, and joy which comes from doing yoga," said Sahel. This summer, for the first time, she will be training other teachers in Orange County in order for them to implement yoga for kids in their studios. She hopes that children all over Orange County will then be better equipped to handle the stresses, anxiety, and fragmented relationships that come in their lives. "Yoga is not just a work out, it is a work in," says Sahel. Her passion to help kids and adults experience through the benefits of yoga is paramount.
To learn more about care4yoga please visit www.care4yoga.com.