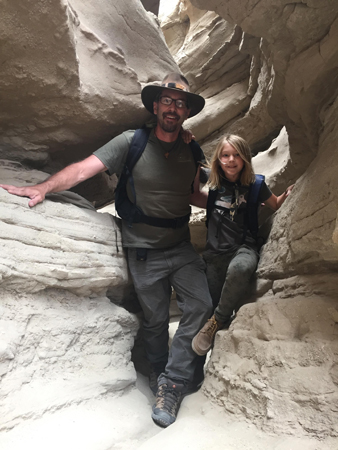 From recycling to redefining green-clean, protecting the environment is more than a passion for these eco-heroes.
Bo Glover
Forefront on Bo's mind as he jumped into his VW Bug and headed west to California was making sure the car would survive the nearly 3,000-mile trek from Pennsylvania to Newport Beach without breaking down. After several days' journey, Bo was breathing in the beach air and charting a course for his new adventure. Instead of spending his days sipping sodas, toes in the sand, he immediately settled into his new community by seeking out ways to volunteer his time.
Bo made a connection with nature at an early age by climbing trees, building forts, and "digging holes to China", so he was understandably drawn to the offerings of the Environmental Nature Center (ENC) in Newport Beach. He cut his volunteering teeth on building trails, restoring habitat, and leading groups of people on tours around the facility. That first experience led Bo to a 20-year career as the Executive Director of the ENC, a position which he still holds today. "Nature can bring families and people together," said Bo. Instilling that idea into the culture of the ENC has been significant.
Bo's affection for nature swept through the community as he advocated for the environment and raised money in hopes of expanding the ENC. This drive and passion resulted in the purchase of not one, but two properties adjacent to the ENC. In addition, Bo developed Orange County's first Native Butterfly House along with an 8,500 square-foot Learning Center building. This eco-firebrand is even planning a nature-based preschool, so that little ones can learn in a stimulating academic environment. "As a parent and director of the nature center, I've come to realize that sharing nature is more important today than ever."
When Bo isn't devising new plans to expand the ENC, he is happily visiting National Parks and wide open spaces with his family in order to create memory-making experiences. Being a dad has given Bo an even deeper desire to spread love and respect for the natural world, so that future generations can experience its grandeur.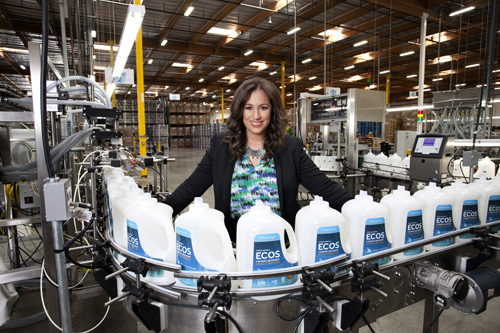 Kelly Vlahakis-Hanks
For planet-saving wife, mom, and president of family-owned Earth Friendly Products, helping the environment is paramount. Kelly's passion for saving the earth and protecting families began when her father emigrated from Greece in 1953. After receiving a degree in chemistry, Van began creating earth-friendly products in his garage as a "devoted protector of the environment." Now in their 50th year, Earth Friendly Products, ECOS, is one of the last family-owned businesses in the green cleaning product market.
As a UCLA graduate, and after obtaining her masters from Chapman University, Kelly began her career at ECOS in public relations and marketing. in 2014, she took over as CEO and president after her father passed away unexpectedly. Her father's deep conviction and steadfast vision for creating cleaning products that are safe for people, pets, and the planet, have been a driving force in the success of ECOS. It is something Kelly doesn't take for granted.
Kelly has worked from the ground up to expand the company to include over 200 products, which are sold in 62 countries. ECOS is dedicated to creating the greenest products in the greenest way possible. Not only is Kelly passionate about saving the earth and helping families to clean efficiently by using healthy cleaning products, her employees receive extensive medical benefits, enjoy family leave, and the opportunity to be ahead of the living wage curve. In addition, over 50% of her employees are women and minorities.
Kelly has no intention to slow down the pace in her quest to ensure planetary protection. ECOS now has 4 facilities in the U.S. and continues to expand their product line with Zero Waste manufacturing. By owning their own production facilities, they can offer effective plant-based green cleaners at a lower price than competitors.
Recently they have also partnered with Disney to launch of Disney Baby ECOS products. "As a mom actively involved in the Orange County community, and as a CEO, I am passionate about creating a healthy environment for our children and teaching them the importance of protecting our community and the health of our planet."
At age 12, her daughter is beginning to see the advantages of using earth safe products. "I'm happy to see her leading by example with her friends and classmates," said Vlahakis. "She's helping them realize that the little decisions we make every day really do add up to big changes over time."
To learn more about ECOS and where to purchase their products please visit www.ecos.com
Zoey and Zac Arbour
What's cuter than two youngsters smashing cans and plastic bottles in hopes of collecting a pile of profits? Those same kids using those profits to help kids who are living at Orangewood Children's Home.
Donning their "Z and Z Recycling" shirts and jumping in and out of grandma Rachel's truck to collect cans and bottles from neighboring homes has become part of the weekly routine for this 4 and 6-year-old philanthropic duo. Siblings, and children of Jeff and Dori Arbour, Zoey and Zac are learning planet saving skills along with generosity.
Zoey and Zac began their business in September of 2016 when grandma, Rachel Perry, encouraged them to ask neighbors and friends if they would be willing to donate their recycled bottles and cans to their budding business. This was the beginning of Z and Z Recycling. In addition to collecting the money for profit, the decision was made early on to donate half of their earnings to Orangewood Children's Center. Matched by the Lion's Club in Costa Mesa, Zoey and Zac collected $1000.00 their first month which provided bikes for kids. More recently, they raised money to purchase DVDs for the same group of children. "We like to get money so we can give it to kids who don't have a family," said Zoey Arbour.
The more they recycle, the more they give back. So what happens to the other half? Fun! This dynamic duo is saving for a 2-night trip to Great Wolf Lodge in Garden Grove, but not before they do more for the children at Orangewood. When asked what he would like to do next for the kids, Zac replied, "OC Fair!"
If you would like more information on how you can help Z and Z Recycling, please visit their Facebook page at: www.facebook.com/pg/zandzrecycling
By Linda Vujnov