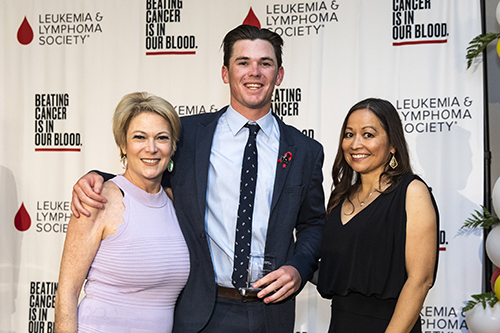 Newport Harbor High School student Luke Hatfield recently received Leukemia & Lymphoma Society's Mission Award for his work with the organization.
When Luke Hatfield got involved with the Leukemia & Lymphoma Society's annual Student of the Year program, it was for his dad.
"I didn't even really know what I was getting into, but it was seven weeks of reaching out to people and asking for donations and setting up events to raise money and awareness. And I loved it. I had so much fun," says the Newport Harbor High School student.
Then he was approached a few months later about returning to the program not just as a team member, but as a team leader.
"I didn't really think that it could get much better than my first year," Hatfield says. "But it did."
The Leukemia & Lymphoma Society's (LLS) Students of the Year Campaign is a philanthropy program that helps high school students develop important leadership skills through a fundraising competition to benefit LLS.
The cause is especially close to Hatfield's heart since his father, Bobby Hatfield Jr., was diagnosed with stage four Hodgkin's lymphoma in 2000. He was only 33 years old at the time. He was engaged to Hatfield's mother, Kristen, and it was just months away from their wedding. They were married in the middle of his chemotherapy treatments. In six months he was cancer-free and almost a year later, Hatfield was born.
"He was able to beat it," Hatfield says. "I did this for my dad."
Returning as a team leader meant Hatfield chose and assembled his own team.
"It was a little bit more responsibility but it really wasn't much more work. It wasn't work at all because I really enjoyed doing it," he says. "Once the campaign got up and running, we [were] all working together. But at the start, I kind of had to show everyone the way."
His team hosted three fundraising events: a softball game, a GritCycle indoor cycling event and a Bingo night.
"I was really fortunate with the people I picked," he says. "They worked really hard and they were really amazing people."
Hatfield and his team raised $57,978 over the seven-week campaign. And his dedication and hard work didn't go unnoticed. He received The Mission Award from LLS, which is awarded to the candidate who demonstrates commitment to the mission of LLS. Hatfield shared his own story when reaching out for donations with personalized emails. He also utilized social media and featured cancer survivors on the team's Instagram, as a way to honor all heroes.
"I think one thing that I was able to do with my campaign was get everyone involved," he says.
This year, Hatfield is serving on the Students of the Year's leadership board.
"I am happy to stay involved and I really hope to see the Students of the Year Campaign stay on the same track that it is right now," he says.
But he never loses sight of why he began his journey with LLS.
"My dad is my entire reason and inspiration for this whole thing," he says. "And he is my hero."