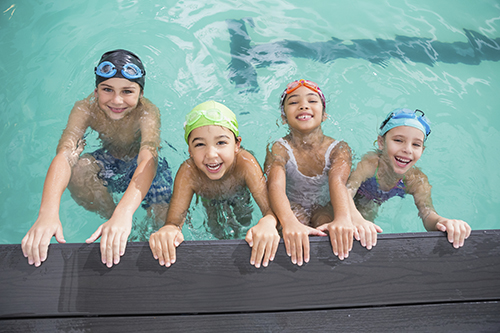 Project Wipeout Program Coordinator William Koon offers families tips for staying safe in the pool and ocean.
Saying hello to summer means sun, sand, warm weather and time in the water.
Fun in the sun—and water—also means some potential dangers for kids heading into summer vacation ready to let loose.
It's these kinds of dangers that inspired the development of Orange County-based Project Wipeout by Hoag. The program was founded in 1979 when five people were admitted to Hoag's intensive care unit with severe neck and spinal cord injuries from accidents at local beaches, according to William Koon, Project Wipeout program coordinator.
"Motivated by this series of cases, Dr. Jack Skinner and other concerned Hoag physicians and nurses started Project Wipeout in an effort to educate the public how to keep themselves safe at the beach and to work with lifeguards to ensure that people who sustained spinal cord injuries at the beach were immediately treated with high-quality care," said Koon.
Koon said the main risks for children and teens when it comes to the ocean and pool are rip currents that can pull them away from the shore, waves breaking in shallow water that could cause spinal cord or other injuries, drowning and the sun.
Citing Orange County Fire Authority statistics, Koon said that in 2018, there were a total of 101 drowning incidents in Orange County, with 42 of them fatal. Of the 42, 10 were under the age of 19.
"Orange County consistently ranks among the top counties in California for drowning events," he said. "Additionally, much of Orange County's coastline is exposed to large southern swells in the summertime. This means when the beach is most popular, we have large waves that generate powerful rip currents."
But summer is a time for fun and relaxation, not to be scared. It is important, however, to be aware. To help you out, Koon has provided some tips for keeping your kids safe around the water this summer.
Adult Supervision: "In 2018, 29 Orange County drowning incidents were due to a lapse in supervision," said Koon. "Active adult supervision is absolutely essential any time the kids are in or potentially near the water. Active adult supervision means distraction-free supervision of kids: You should avoid reading, using a cell phone, chatting with friends or drinking alcohol as any of those activities could take your eyes away just long enough for your child to slip under the water. It is a good idea to designate a sober adult who knows how to swim as a 'water watcher' to maintain constant watch of anyone in the pool."
Four-Sided Barriers: "Install and maintain proper barriers around the pool," Koon said. "Use multiple layers of protection such as safety covers, gate alarms, door alarms or motion-detection devices. Make sure all gates are self-closing, self-latching and open outward away from the pool. If your child goes to a friend or neighbor's house, ask their parents if they have a pool, and if that pool has properly maintained four-sided barriers."
Lifejacket: "Any time the kids are in a boat, canoes, rafts or kayaks, they must be wearing lifejackets," said Koon. "You, as the parent should too. Research has confirmed that when parents model lifejacket use, teens and young adults are more likely to use lifejackets as well. Lifejackets are also a good option for kids in the pool—it is one more layer of protection against drowning."
Child Swim Lessons: "The American Academy of Pediatrics recommends that all children learn to swim," said Koon. "It is an important life skill, a great family activity and fun. Research has shown that swim lessons are beneficial for children starting around age one. There are multiple municipal and private locations where children can learn to swim."
Emergency Skills: "All parents and caregivers should know how to swim," Koon said. "If you don't, it is never too late to learn: There are multiple adult swim classes in the area. Additionally, it is vital that parents and caregivers know CPR. One study found that drowning victims who received bystander CPR were three times more likely to have a favorable outcome. CPR for adults is different that CPR for children, so be sure to take an age-appropriate CPR course. Look for a pediatric or child CPR class and remember that all drowning victims need breaths in addition to compressions."
Swim Buddies: "Adults and children should always swim or surf with a buddy, regardless of ability," Koon said. "Being in the water alone is dangerous at any age."
Lifeguard Adjacent: "When you visit the beach this summer, always swim in front of an open lifeguard tower," Koon said. "When you arrive, go check in with the lifeguard and ask about the conditions and where it is safe to swim. Learning rip current safety is a requirement for anyone who spends time at Orange County beaches."
Sunscreen: "Apply SPF 30 or above at least 30 minutes before going outside," said Koon. "Apply every day, even on cloudy days. Reapply at least every two hours and immediately after swimming, playing or exercising outdoors. Be generous: The average-size adult requires one ounce of sunscreen to protect exposed skin—about one cupped handful."
By Jessica Peralta