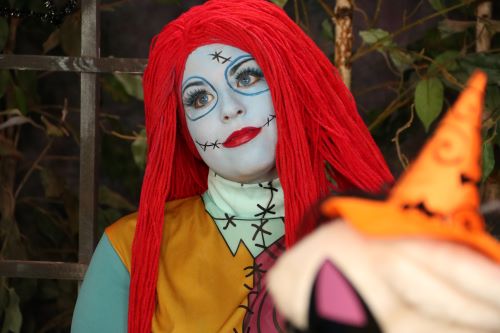 How to make Halloween a scream in a socially distanced world.
Halloween may seem a little sad this year. But for Halloween lovers, COVID-19 safety restrictions doesn't mean the spooky holiday season is cancelled.
"We have received calls and inquiries from many parents on what to do this year," said Lisa K. Cohen, director at Creative Arts & Parties for Kids and owner of the new Play & Parties location (opening Oct. 31) in Orange. "I always look at every challenge as a creative opportunity and this pandemic is no exception. When you think about the essence of Halloween and what gets kids excited to celebrate it, it is dressing up and pretending to be someone or something else and then sharing that experience."
Creativity is the name of the game this Halloween season. It can mean creating a virtual Halloween party for your kids at home, going out to a socially distant event or something else. At the center of it all is a passion for Halloween and the inventiveness of creative minds.
"This challenge has inspired some families to be even more hands-on and involved with their kids' activities," said Cohen. "I would recommend that even the parents and other family members dress up and join in the fun. Find your own inner child and join in. Kids love it when 'their grown-ups' let down and have fun with them."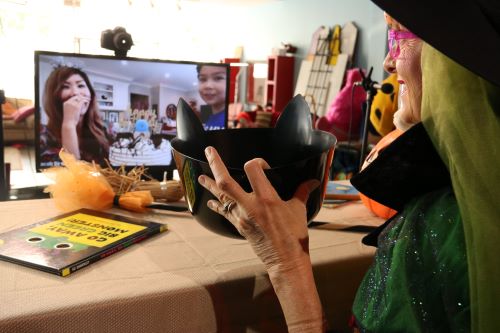 Creating a Virtual Halloween Party
"Parents can absolutely put together a virtual Halloween party or event," said Cohen. "The host family just needs to have one adult lead the call and keep the structure of the event moving, and yes in order to do this effectively you do need some specific technical things to make it work."
She said some activities for a virtual Halloween party can include:
Dance Party: Kids can show off their costumes and do a freeze dance — where they dance to some fun music like "Thriller," "Ghostbusters" and "Monster Mash," and freeze whenever the music stops. One of the adults can serve as the designated virtual DJ for this one.
Costume Parade: "Each child will have a moment to be highlighted on the Zoom call and strut their stuff for the other Zoomers," said Cohen. One of the more energetic parents can serve as an announcer. "'And now presenting Sophia, who will show us her beautiful princess twirls and curtsies,'" Cohen said.
Interactive Craft: Kids can make a fun, easy craft simultaneously during the call. Just remember that when you send out your invites to make sure each family knows what supplies they need to get in advance. Kids can add googly eyes and stickers to a pumpkin, or decorate a candy bag. "There are endless ideas and craft kits on Amazon, Pinterest, etc.," said Cohen. "Your guests can create the craft together and share the fun results right there on Zoom."
Scavenger Hunts: "This takes a little planning on the parents' part, but it is so easy and super worth [the] fun," Cohen said. The adults hide a few toys and treats in the home — like a plastic pumpkin ball under the couch, or a little toy witch in the kitchen. The host then gives clues for the kids to go scavenge for the items. "Kids love looking for the lost treasures," said Cohen.
Cohen said you can make the party as elaborate or simple as you like.
"A more elaborate virtual Halloween party would include things like virtual backgrounds, possibly inserting a shared movie or video, and incorporating music," she said. "I think that either way, elaborate or simple, you need a structure and someone to keep it moving and interesting for the kids."
Of course, it's also important to stay on top of the technology aspect of a virtual party.
"Make sure your phone or iPad is on a tripod or set the laptop in such a way so you are framed properly," Cohen said. "[Once] that is set up, put a light source behind the phone, laptop or tripod as well as make sure that you have light on you as well. You can use lamps, clamp-on work lights, whatever you have. Pick or create a fun background or cool place in your home to stage your Zoom."
And don't forget to involve your kids in the planning process.
"Sit down with them and make it a fun family project," she said. "Ask them what they would like to do and then brainstorm with them on how to make it happen. Maybe they like puzzles, or quizzes, or treasure hunts. Then figure out how to make this work."
Creating a Look
At the center of any Halloween event or activity is costumes, of course. This year, families can turn their Halloween costumes into a fun DIY project.
"It certainly is going to be a different kind of Halloween this year, but that doesn't mean we need to skip out on the fun of dressing up," said Theresa Casados, assistant store manager at Goodwill of Orange County's Santa Ana store on Fifth Street and Fairview Street. "You likely have a lot of what you need in your home already. Take a look at your closets and put on your 'costumes' hat — there are great pieces for dress-up already in there."
First start by choosing a theme — princess, superhero or something else — and build from there.
"An adult long-sleeve T-shirt doubles great as a cape," she said. "You can then accessorize with newly-purchased masks, costume jewelry or flowers to complete your look."
Casados said she does anticipate the popularity of some specific looks.
"Dia de los Muertos continues to be a popular and fun costume idea year after year," she said. "We are also seeing a lot of people pulling together steampunk costumes — it's a mix of Victorian-era romantics with harsher, industrial pieces that nod to time travel or science fiction. It's fun and funky for some of your older kids. Because we all need some extra magic this year, we are also anticipating a lot of mystical, feel-good costumes such as fairies, princesses, mermaids and dragons."
Related Posts:
She said that to create a steampunk costume, you'll want to look for dark colors, browns, blacks and burgundies, paired with ruffled or detailed tops in white.
"Accessories will really complete this look, so you'll want to add belts, vests, goggles or any jewelry reminiscent of gears or clocks," she said. "Anything velvet will pair well for this theme too — like a velvet sash or fabric belt."
For a mystical and magical fairy or princess, look for bright colors and fun fabrics.
"Anything sparkly or shimmering in effect is wonderful," she said. "If you find a larger size prom dress at a Goodwill store, repurpose that into a smaller size to fit your child — you can cut out fabrics to build a completely new silhouette. It's often easier to create a two-piece look with a skirt and top. A wand can be made from some of this discarded fabric and a paper towel roll, too. Have fun with it. We also love adding fresh flowers into hairdos for these magical characters."
JOANN's Crafted Content Manager Anna Olsen said that the fabric and craft store offers many options for Halloween. The website offers detailed instructions on creating an assortment of costumes and crafts.
"JOANN is a great source for Halloween costume inspiration every year," she said. "We have costume ideas to inspire adults, children and even pets."
Makeup artist Angela Santori said that no matter what the theme, just remember to have fun and also, don't forget to do a skin patch test first.
"I always recommend doing a skin patch test with the makeup to make sure there are no allergies," she said. "All skin reacts differently and also some face paints stain, mainly in the blue and green colors. Just have fun and make it a fun, family activity. Paint each other, everyone can be an artist."
Creating an Environment
When it comes to decorations, options are limitless — but there are some things you can do to turn an ordinary, commercial prop into a unique, pro-level decor item.
Dave Larson — founder of long-running home haunt Pirate's Cave in Orange — utilizes a technique he learned from a friend to improve the look of his props.
"My favorite thing to do with my kids over the years that is creative and is fun for all ages is 'distressing' Halloween decorations," he said. "At the Pirate's Cave in Orange, we have to build most of our own props. Sometimes we buy cheap props and 'age' them to improve the look."
He said that when his kids were young, he embarked on their first Halloween project. He bought some glass bottles with flickering light inside and a wood crate to hold them in.
"The problem was the bottles and the crate looked too new, so something needed to be done," he said. "We learned about the 'dry brush technique' from a friend and have implemented it ever since. You can take any prop and use this method with different variations. It was a fun project for the whole family, even the young ones."
Recently, he applied the technique to some barrels he found at the thrift store.
"The size of them was perfect, but they didn't look spooky or aged," he said.
First they applied a base coat over the whole barrel.
"Think of the base coat as the overall color you want your prop to be — keep it on the lighter side though," he said. "Once that is dry, you select some other colors like a darker black, some white, and some lighter brown."
Pour small half-dollar size pools of the paint into different areas of a pie tin. Then take a brush and briefly dip it into some water, and then into your selected paint. First apply the paint to a piece of cardboard to figure out the right amount to apply to the surface, as well as for some practice.
"The idea with the barrel was to get a faded wood grain look," he said. "The water kind of feathers the paint where [you] don't have such hard lines and creates a spookier look. This is where the experimentation comes in. Try using different colors, mixing the colors. Using sea sponges instead of brushes. Just keep brushing away, but keep in mind that 'less is more.' The great thing about a water-based paint that is slightly watered down, is that if you make a mistake you can wipe that paint off and start again."
He said to keep on the lookout for cheap props to try the technique on.
"Your family will enjoy perfecting your technique [and] will be proud of your final result," he said.
Out and About
Even with a pandemic, local Halloween events are popping up throughout the county. Businesses and individuals are rising to the challenge and are finding innovative ways to celebrate Halloween while social distancing and adhering to health and safety guidelines. Here are just a few examples: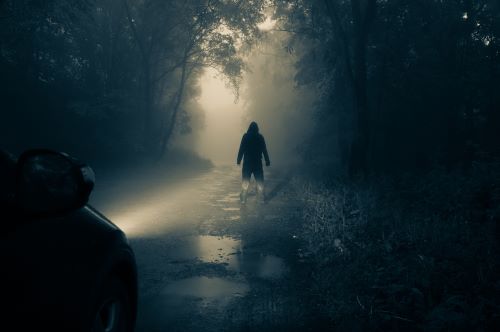 Urban Legends of Southern California
We're all about the drive-throughs these days and now Halloween is lending itself to an innovative form of the concept. Urban Legends of Southern California is a drive-through Halloween haunt at the OC Fair & Event Center running 24 nights (Wednesday to Sunday evenings) from Oct. 1 through Nov. 1. The 45-minute long immersive experience is inspired by local urban legends and sets out to bring creatures and terrors to life through special effects and live performances, all while guests are safely in their cars. Though there are no age restrictions, the event is recommended for those 13 and over. A special Little Legends Night will be offered for families with children under 13 to enjoy a less scary Halloween experience on Oct. 31 from 5 p.m. to 7 p.m. | urbanlegendshaunt.com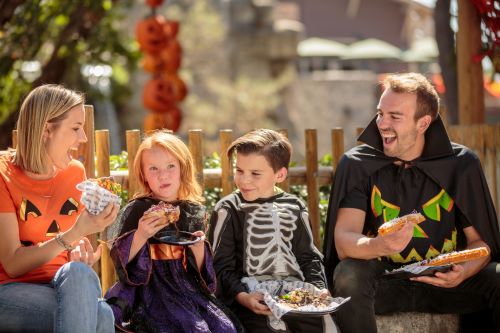 Knott's Taste of Fall-O-Ween
Sadly, Knott's Scary Farm was cancelled this year and Knott's Berry Farm is still closed (as of printing). But Knott's Berry Farm has developed some fun and innovative food and entertainment opportunities for the community. Knott's Taste of Fall-O-Ween is a family-friendly outdoor food and retail experience celebrating the Halloween season and fall on Fridays through Sundays through Nov. 1. Children and adults can dress up in festive costumes and experience themed food, exclusive event merchandise and an all-new "Into the Fog" art show. With a junior tasting card, young guests will have the chance to take a trip through the fully themed Camp Snoopy Trick-or-Treat Trail. All activities will be conducted with safety and social distancing protocols in place. | knotts.com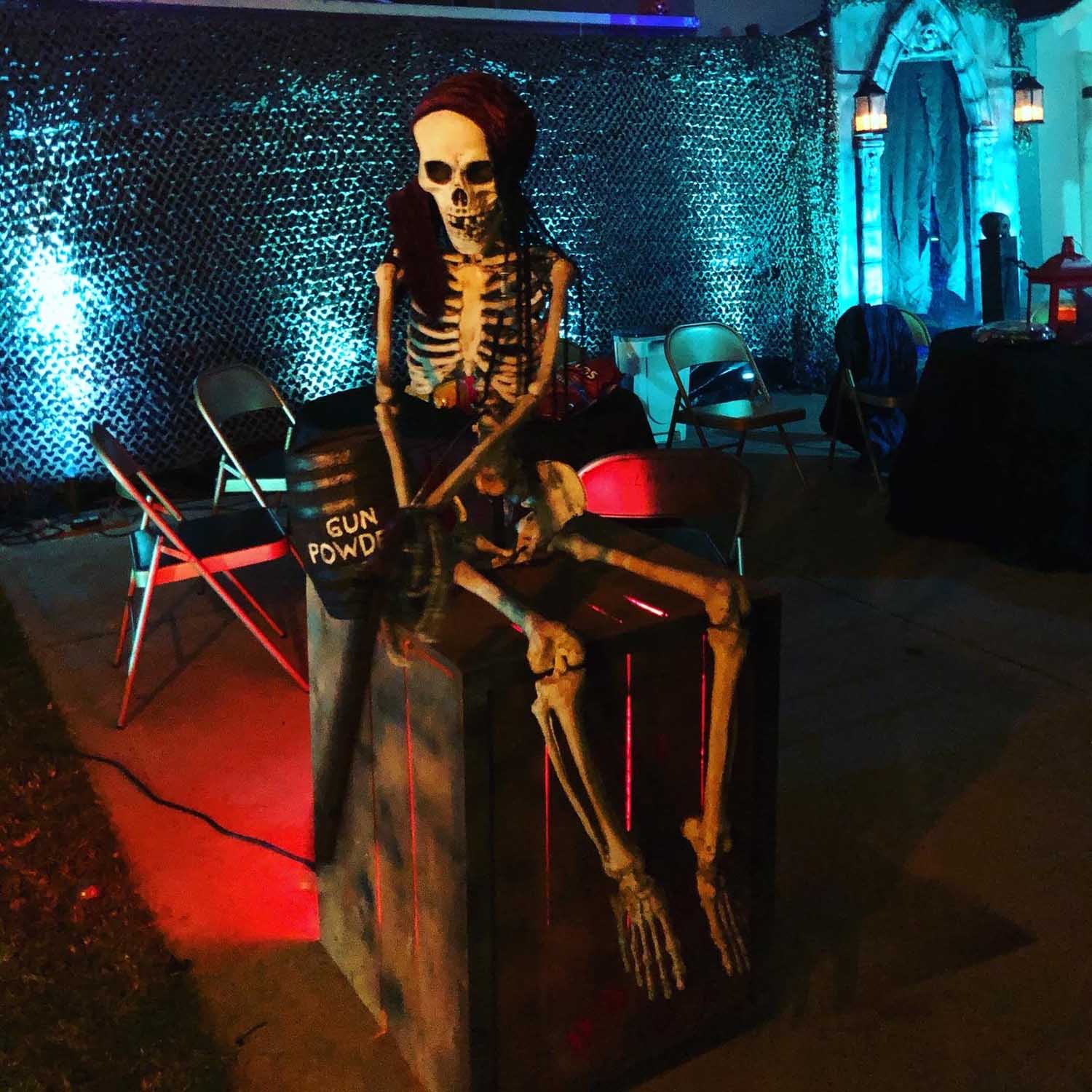 Pirate's Cave Haunt
Pirate's Cave Haunt is a family-friendly home haunt in Orange returning for its 21st year of offering fun scares to the community. The haunt has adjusted to the need for social distancing by creating a unique walk-up yard display. This year guests will learn the origin story of the pirates through a 6-minute multi-screen video presentation synced to lighting effects, props, special effects and live actors. There are more nights open this year to help thin out big crowds. Masks are recommended for attendees. The Pirate's Cave Haunt runs Oct. 24, 25, 30, 31 and Nov. 1 from 7-10 p.m. A $1 donation per person is suggested but not required. | piratescavehaunt.wixsite.com/piratescavehaunt
---
By Jessica Peralta
(Photos supplied by Ralph Palumbo)