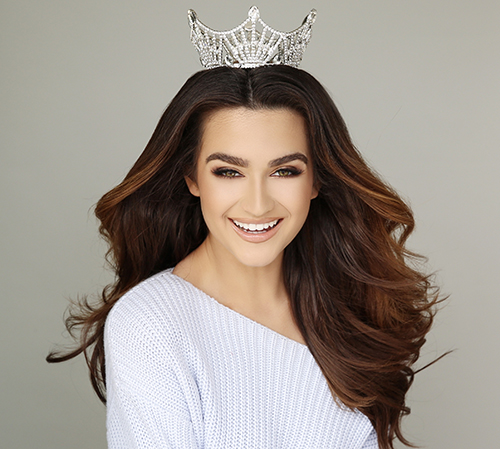 This beauty pageant competitor is on a mission to educate the world about seizure first aid.
When Miss California High School America, Grace Edwards, was just 7 years old she already had a couple beauty pageants under her belt. The La Palma Christian School student also had a pretty comprehensive knowledge of seizure first aid thanks to her epileptic younger cousin, Logan Verne.
When Verne had a grand mal seizure at a local amusement park, young Edwards was disheartened by the reaction of the park-goers and staff.
"Nobody knew what to do," Edwards said. "The employees, the people around us, nobody really understood how to handle the situation. I realized the lack of knowledge about epilepsy and seizure first aid in that moment."
Edwards envisioned a scenario where that knowledge could be shared with a mass audience.
"I went home and I told my mom: 'Mom let's just get the whole world in one room and I'll teach them seizure first aid, OK?'" she said.
Of course, Edwards wasn't able to the get the entire world in one room. But, with the help of her mother and dance teacher, she was able to get 150 people into a Presbyterian church to learn about epilepsy.
"It was a family event," said Edwards. Her grandmother cooked spaghetti dinner for all 150 attendees. "But it was an emotional event too, because we were able to educate people about something that had been a part of our lives forever."
As Edwards grew up, she continued to put on events under the name Talent for Epilepsy, hosting talent and fashion shows throughout Southern California to offer education on seizure first aid and to raise funds for those diagnosed with epilepsy.
She continued competing in pageants as well, using competitions as a way to reach even more people.
"I love that it gives me a platform to tell my story," she said. "With each pageant I do I get another audience that is there listening to me talk about what I am passionate about."
This June, Edwards will travel to Little Rock, Arkansas to compete for the title of Miss High School America, a scholarship program that places an emphasis on volunteer service along with an interview portion, and formal wear and fun fashion competitions.
"It's empowering for females," Edwards said. "I can't think of any other organization, any other sport … that praises women for being who they are. Pageants have really given me a voice."
And they've helped her be the voice for her cousin, too.
"My cousin has always been my hero and he has always been somebody that I look up [to]," said Edwards. "He has several seizures every day and he handles it like a champ. I think he is proud of me."
The next Talent for Epilepsy event is on May 4 at Tewinkle Park, Costa Mesa and is a "Star Wars"-themed Epilepsy Walk in partnership with Epilepsy Support Network of Orange County, called Seizure Wars.
---
The Four S's of Seizure First Aid
SIDE — Lay the person on their side.
SOFT — Place something soft under their head.
STAY — Stay with the person until they are …
SAFE!
If this is a person's first seizure, call 911 right away. If the person is known to have epilepsy, call 911 if the seizure lasts longer than five minutes. Remember to check for medical ID bracelet as individual medical plans can differ. Visit www.talentforepilepsy.com for more info about seizure first aid and upcoming events.
By Sarah Mosqueda