An Aliso Viejo second-grader and leukemia survivor helps make a wish list for other kids fighting cancer.
Bodhi Boul arrived for her first day of second grade at Oak Grove Elementary a little late. Actually, by about a month.
When she arrived, the principal was waiting for her.
Along with the school dog.
Also, a big sign welcoming her back. Bodhi was thrilled to see it all, because she'd just beaten leukemia.
It had been a long year, and getting back to being a normal kid was great, but Bodhi hadn't forgotten the kids still in the hospital. The kids still struggling to be kids.
Bodhi's mom, Emily, says it started with "really bad bruising." They suddenly appeared, but didn't hurt. "I took her to the beach on a Wednesday and noticed later three bad bruises on her back," she says.
"I contacted her teacher and the teacher kept an eye on her at recess. I also asked her coaches if there was anything that was happening at cheer. Later, when I showed it to my husband, Bruce, one appeared almost before our eyes on her shin. I packed up for a long night in the ER. After some blood work, the doctor returned and said it appeared to be some kind of blood cancer."
Bodhi spent the next week at Kaiser Permanente, Anaheim where they got the official diagnosis: acute lymphocytic leukemia, which affects about 3,000 kids every year and is the most common form of childhood cancer, according to the American Cancer Society. Fortunately, it's also the most curable. Approximately 90 percent of kids can be cured if treated early.
"She was a trooper through all of that," Emily says of the stress and the chemo. "We went out on the back patio and shaved [her head]. She was really good with it."
But she had to stay out of school for a year because the chemo lowered her immune system.
Emily says that while the whole family practiced a good attitude, it was the help of others that made a gigantic difference. Friends made meals and watched their son. Even complete strangers dropped off gift cards and food. A neighbor set up a GoFundMe page.
Her first-grade teacher, herself a breast cancer survivor, came to the house three times a week and "organized everything."
When Bodhi finally returned to school, lots of people, including her friends wanted to do things for her, but as a teacher suggested, there was an even better way to demonstrate the compassion they'd learned. Soon, "Bodhi Boxes" were appearing all over school.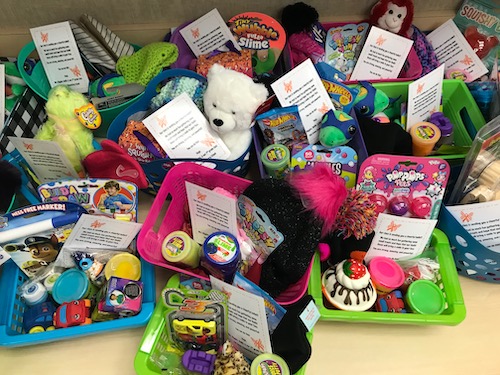 The idea of giving back was really important and Bodhi loved being able to help the kids who were still going through what she'd gone through. What did they need?
"She was really excited. It's an honor to have your name on something," Emily says. "And Bodhi came up with a pretty good list." It included stuffed animals, toy cars, Slime, beanies, even lip balm for the kids at the clinic. About a month later, they'd filled 17 Bodhi Boxes.
"It brought tears to my eyes," Emily says. "The kids were beaming with excitement knowing they did something really special."
Bodhi went to her regular visit to the Kaiser clinic in February with her wagon full of items.
"We never felt like victims," says Bruce.
He and Emily wanted to be sure Bodhi grew from the experience, not just survived it. He would tell her, "life comes with challenges and it's all how you react to the challenges. That's what defines you."
And Bodhi is a second-grader defining herself well.
— Shawn Price
Top Photo: Eight-year-old Bodhi Boul, center, surrounded by her classmates.
Center Photo: Bodhi Boxes