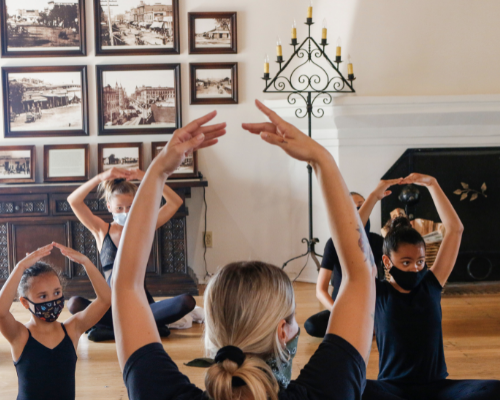 Considering pandemic-induced mental health concerns in children, summer camp might be just what they need.
A major 2021 analysis in the Journal of the American Medical Association revealed an unsettling trend about the current children of the world: Depression and anxiety symptoms during COVID-19 have doubled, compared with pre-pandemic estimates.
As a parent, you might, unfortunately, already know that.
The good news, if you're also an optimist, is that after more than a year of disruption, uproar, and even isolation, the vast majority of kids are doing OK, probably better able to roll with the changes brought by a global pandemic than adults, at least according to other studies.
The JAMA Pediatrics analysis — a culling together of 29 studies from multiple countries that included more than 80,000 children and teens — found 25 percent, or about one in four kids reported feelings of clinically elevated depression. About 20 percent, or one in five, reported feelings of clinically elevated anxiety. It also means about 75-80 percent were not feeling increased depression or anxiety, but the numbers of kids being affected were trending upward, particularly with girls and older kids.
As the science continues to come in, and schools fine-tune their COVID protocols, class is turning out to actually be a pretty safe place for them. But when the weekend hits — or spring break or summer vacation — camps can play an even more important role in shaping not only what they learn, but who they are.
"Camps are more important than ever," says Dr. Nelson de Ramirez, clinical psychologist, founder and CEO of OC Kids Therapy in Aliso Viejo. "Camps can help bridge the gap in developmental and social skill delays that resulted from the isolation. Any opportunity for kids to get involved, engaged and socialized can have positive outcomes.
"Overall a quality camp provides kids an opportunity to socialize, learn new skills, build self-efficacy and confidence," de Ramirez says. "It gives children the opportunity to catch up on some of the social skill delays that may have been a result of the school shutdowns over the past two years."
Ultimately, it might not matter what the camp is themed, so long as it provides quality education and some valuable engagement and socialization they won't get in school. And camp directors have seen the need with their own eyes.
"Definitely," says Giavanna Patafio, education manager and camp director of Discovery Cube Orange County in Santa Ana, which held its 2020 summer and winter camps virtually and sent campers their needed supplies. "We noticed that while kids — and parents — were so excited to participate in the hands-on, interactive science activities, kids were most excited to just meet people and build new friendships with the other campers."
Patafio says the desire to interact with other kids was even more apparent in 2021 when the Cube held its first in-person summer camps since the beginning of the pandemic.
"For a lot of our campers, especially in our kinder-second-grade camps, this was their first experience meeting and interacting with new kids and people in person. For quite a few campers, it was a tricky transition after being isolated for a significant part of their lives," Patafio says. "But ultimately, the relationships they built and interpersonal skills they developed during their weeks at camp at Discovery Cube are so valuable to their development and something they will remember."
Casa Romantica dance instructor Kylie Travis says she saw kids bounce back from the effects of 2020 during their summer music and dance camps.
"A lot of kids in the past few years were really struggling with socialization, especially in the first summer of the pandemic when they hadn't been to school in months," she says. "They were so grateful to collaborate with their peers and were so supportive of each other as they all grew in our programs. The parents couldn't thank us enough for giving their children a safe place to learn and grow after the year that they had."
Parents might have taken a wait-and-see approach to the summer camps their kids enrolled in at the Cube, but quickly got a pleasant surprise, Patafio says.
"During last summer's camp sessions, we offered both a full week and daily option for our in-person camps. A lot of parents that chose the daily option came back to us asking if they could sign their camper up for the full week after their one-day camp experience at the Cube. Parents shared with us how their kids came home excited about what they learned and were looking forward to the next day."
The charm of the arts camps are a little different, but just as lasting.
"We have a lot of positive experiences with each program every year, but I think for the staff, the recurring stories where students continue to pursue the arts is what makes us know we have done our job," Travis says.
Animals offer a wholly other path not only into science, but socialization. Laguna Beach's Pacific Marine Mammal Center (PMMC) allows kids to learn from the seals and sea lions they rescue and rehab.
"The animals have an understanding of emotional and physical conditions," she says, "and can relax and ground individuals that participate. Horses also teach accountability and responsibility and so much more.
We do an exercise on the ground with the horse called 'join up' and teach the students how to read the signs to know when the horse is ready to join up. Once the horse joins up they will follow the student anywhere without a line. This creates a unique bond and sense of accomplishment."
De Ramirez says the relationship between parents and their children is critical to how well their child deals with the effects of the pandemic and how well they'll adjust to the world coming out of it. Finding the right day or week-long camp can play a role in that.
"Children's response was directly correlated to the parents' response, level of disruption and level of isolation," de Ramirez says. "Parents who were able to maintain some sense of normalcy, provide consistent opportunities for interaction with other children to avoid isolation fared better. Many families early on in the pandemic created their own 'social bubble' and that helped them considerably. Children who were able to maintain in-person schooling earlier on also experienced less isolation, developmental and social delay."
De Ramirez says in his practice, the pandemic lead to him treating "more children for anxiety, anxiety-related disorders, ADHD evaluations and behavioral issues. Much of children's behaviors were directly related to the situational and environmental changes as a result of the pandemic.
"Anxiety and anxiety-related disorders were exacerbated by the disruption and isolation. Having too much downtime to overthink is not a good thing for anyone. School, sports, social interactions all allow children a space to get away from their own thoughts for a while. It also provides kids who already have anxiety to use those tools on a regular basis to 'ride the wave' of anxiety and build more resilience to typical triggers. Kids not being exposed to those normal triggers went back and had to start over, learning how to cope and self-soothe."
Playing music or dancing can certainly be soothing, providing a child can learn about it in a supportive environment. Casa Romantica camps work to instill a big-picture approach.
"While all three programs focus on music and dance performance in their lessons and classes, we also incorporate other types of lessons for a well-rounded arts education," says Travis. "For example, in the Music Academy, they will not only learn a piece to perform in a solo, but they will also learn ensemble work and voice as well as the history of classical music and composers and even a world music class. In the Dance Academy, outside of dance classes, they learn about choreographing their own pieces, lighting and costume design, and even a business class where they create their own business inspired by dance."
---
Related Posts:
---
And STEM subjects are a lot more fun than they used to be.
"The camps are built around hands-on activities [in space exploration, animals, environmental engineering, programming, coding and other subjects] that keep campers engaged and having fun, while creating a relationship between science they might learn in a classroom and real-world applications," Patafio says. "We also utilize the Discovery Cube exhibits during our camp sessions to show kids that science and learning happens not just in school, but all around them all the time."
Patafio is concerned "children now are growing up in a world where they are inundated with social media, stories, news and so many other influences that can affect how they understand the world around them. Having a deeper understanding of how science works — the process scientists go through to research, experiment and make discoveries — gives kids the tools to absorb this information as critical thinkers, and to not just accept things at face value."
Travis says that with music and dance, "we truly see the benefits of exposing young children to performing arts because of its positive effects on self-esteem, confidence and self-expression. These programs give children the ability to explore all the parts of learning music or dance with engaged instructors to help improve their technical craft, [which] really builds their confidence. The supplemental lessons and classes give them a space for creativity where they have a safe space to critical-think and express themselves outside of technical ability."
There are a lot of good choices available for parents and kids to choose from but de Ramirez has a favorite.
"I am partial to camps that allow kids to interact with nature, be outside, and get back to letting kids be kids. There are so many opportunities for growth, building confidence and self-efficacy when kids are given the opportunity to explore. There is plenty of research that shows that being outdoors reduces anxiety, increased focus, and has a positive effect on mood stability.
"Finding a camp that not only interests your child but one that also provides them opportunities to build tools where they may have a deficit is a win-win."
---
By Shawn Price