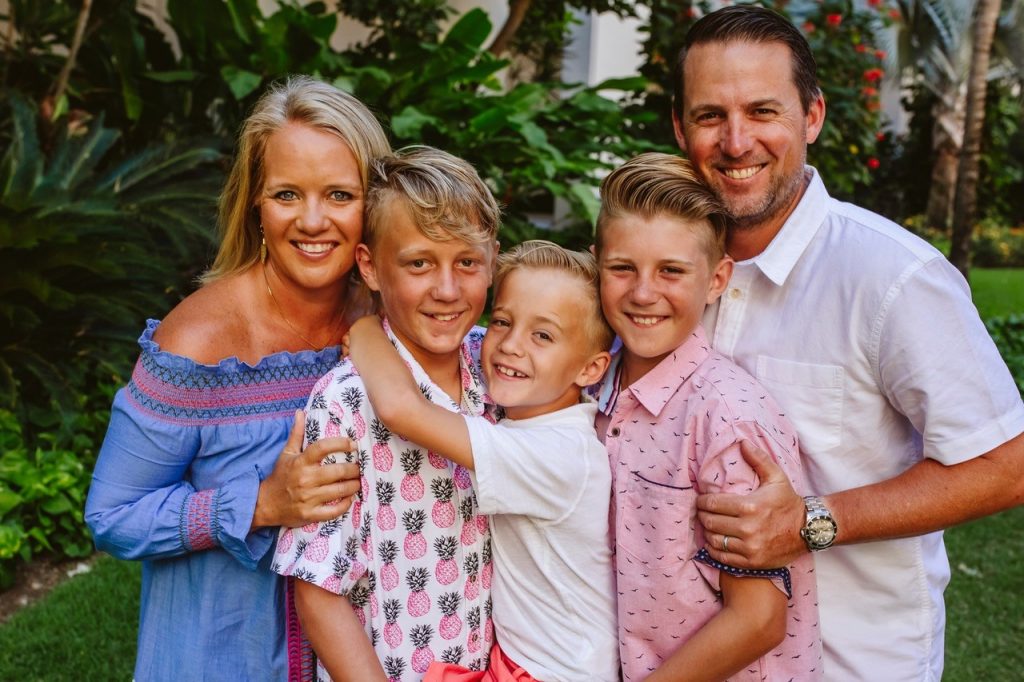 A former breast cancer patient turns diagnosis into dignity while helping other women.
Allie Bertocchini sat in her Coto de Caza home, uncomfortably waiting for the news. That October day in 2019 was not a good one. But it was a turning point. And a chance to actually make things better.
"I kind of thought it was going to be cancer," Bertocchini says, "and I was terrified."
Her instinct was right. She was told she had breast cancer. But it didn't seem to fit with her life, or what she thought it was. She was raising three sons, was their school's PTA president, and a marketing consultant for her husband's financial firm. She even played on her neighborhood's club tennis team. Still, she had cancer.
About one in eight women in the United States will get breast cancer during their lifetime. In Orange County, it's slightly higher at one in seven. But at just 41 years old, she had entered a small but rising percentage of American women: About 9 percent of new breast cancer cases are being found in women younger than 45.
"I was constantly told when I started the process, 'you're so young,'" Bertocchini says. "I was also told they were seeing more and more younger women with this diagnosis."
With a family history of cancer, she says she's always tried to be "proactive" about her health, including regular mammograms from the time she was very young.
"I had no idea what it was actually like being told, 'You have cancer,' and the fear that comes with that," she says. "I hadn't been exposed to an organization like City of Hope, where they only focus on ending cancer. My doctors mean the world to me."
She opted for a double mastectomy and fortunately didn't need radiation or chemo. However, she'll take Tamoxifen for 10 years to prevent a recurrence of the cancer. She also learned a few things.
"I learned I couldn't be in control of this and it wasn't fair," she says. "I needed to close down and allow myself to grieve what happened to me. I spent a year fighting and another year grieving."
The other lesson, she says, "People want to help. It was very difficult being a mom and learning how to let someone else help. I had a friend who would make my kids' school lunches every day for three months, and other friends who would drive my kids. My husband was so supportive and literally took care of me for months. He helped me with post-surgery care, basic needs and attended every appointment I had."
---
Related Posts:
---
But it wasn't easy — and there were many low days.
"There was a lot of waiting and anxiety as to what my treatment plan will be, what my outcome and my lifestyle would be," Bertocchini says. "One of the things I was worried about the most was telling my kids. I was worried about ruining their childhood, but when we told them, they surprised me with their compassion and support. Leading up to my double mastectomy, it was a very hard day, and healing was very hard. I tried to focus on the finish line and take everything one day at a time."
Bertocchini's experience and the lessons she learned from it reached other women. And soon, something positive and powerful grew from the worst of situations.
"There were seven other women at my kids' school who heard my story, got tested and were diagnosed. It was very emotional for these women, but we supported each other," she says. "I learned how healing it was for me to be able to help others in this way. It was very emotional and also so rewarding. I could finally find the good in what happened to me."
Bertocchini now counsels women who've been recently diagnosed. She's also joined research groups focusing on women in their 30s and 40s who've been diagnosed with breast cancer. She even organized a breast cancer awareness event that brought in City of Hope doctors to educate and talk with about 100 of her neighbors. She hopes to make it an annual event.
"Everyone's path is different. Everyone needs to make the right choice for them," she says. "There's so much comfort and safety in building a community of women who are going through the same thing. I'm glad I was able to do it for them."
---
By Shawn Price