Feeling the stress of recent world events? Art therapy may help.
Art is a fantastic coping mechanism and tool for emotional healing, wellness, self-care, stress relief and therapeutic creative expression — particularly when dealing the aftermath of this pandemic.
Art making aids in healthy mindful communication and expression of feelings and emotions — such as grief, depression and trauma … what we've all been experiencing lately. It is a fantastic mindful coping mechanism, helps healing and brings more clarity.
There are many beneficial creative ways to utilize art in our daily lives to practice healthy expression. If possible, it's always beneficial to incorporate music along with the art making, as it can aid in the meditative relaxation, fluidity of the artwork, use of colors, communication and even helps with memory recall.
The arts create conditions for mindfulness by accessing and engaging different parts of the brain through conscious shifting of mental states. The arts can be used to create a unique cognitive shift into a holistic state of mind that is mentally pleasurable and neuro-chemically rewarding. There is a strong connection between the arts and mental health (including self-care, wellness, self-love, mindfulness, attention, creativity and even improved cognition) and overall well-being.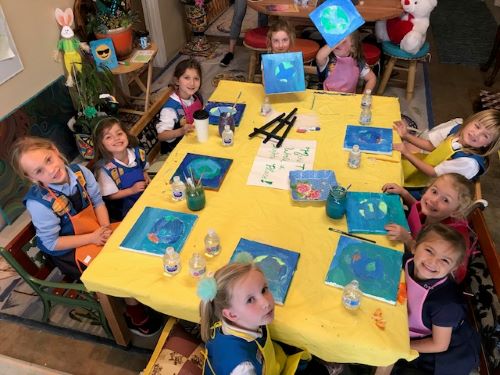 There are many beneficial therapeutic art techniques to help improve mental health and well-being. According to the American Art Therapy Association, "art therapy is an approach to mental health that utilizes the process of creating art to improve mental, physical and emotional wellness."
Some creative coping skills and activities to practice with children or as a family may include:
Using a good "check-in tool" by utilizing and creating a feelings/emotion wheel.
Identifying feelings and expressing them through art/color therapy — such as an abstract painting along to music using such materials as paint or even creating an expressive collage.
Creating mandalas/mosaics can be a great mindful and meditative type of activity while also practicing breathing techniques.
There are many therapeutic benefits to crafting — utilizing clay, getting crafty with nature art, or using various mixed-media items to create a unique craft of your own.
Creating art journals, gratitude/vision journals to utilize daily for all ages is a great coping mechanism even if it's just doodling or writing positive affirmations. It is a wonderful therapeutic art activity.
---
Related Posts:
---

These art activities are just a few ideas that can truly be helpful in uplifting spirits and focusing on expression of feelings and emotions, which can be especially helpful during this current state in time.
All kinds of art are therapeutic. A lot of people want to try different things, to dip their toes into art to see what feels good to them. It's just a matter of easing or jumping into the world of art in general. For some people, just coloring is enough and for others they may want to master a technique, medium or art skill.
Try to create art daily. Art is for everyone and everyone is a creative artist.
---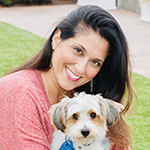 Diana Shabtai, Psy.D., is founder, owner and art therapist at Art Therapy OC in Newport Beach, which introduces people of all ages to the therapeutic and expressive benefits of art. Follow them on Instagram and Facebook @ArtTherapyOC or visit their website at arttherapyoc.com.