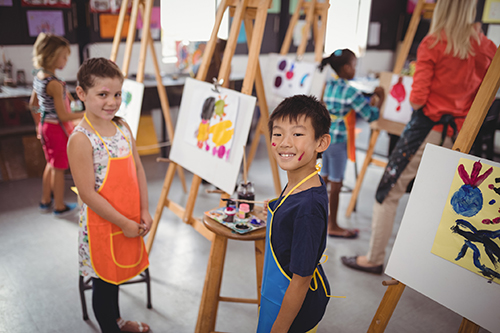 Make sure to ask these questions when you're looking for an after-school program for your kids.
When considering an appropriate after-school program for your kids, how do you choose among the programs available? What are some important factors to consider? Drawing on the advice of reputable organizations such as the Afterschool Alliance, the Afterschool Network and the National Afterschool Association, I've developed a list of things to think about as you evaluate your different options.
It's advisable to contact each program director and ask for permission to see the actual spaces where your kids would spend their time before making any decisions. Look around and ask yourself the following questions:
Is the homework space separate from the space dedicated to other, non-academic activities like arts and crafts, music, and sports? Is the space well-lit and clean? Is it decorated in uplifting, kid-friendly colors?
Does the space have areas where the kids can work together in small groups as well as independently? Is it possible for the kids to work quietly on their own as well as to talk and share ideas with other kids?
Is there comfortable furniture like armchairs, bean bags or large floor cushions where the kids can relax and immerse themselves in a good book?
Is there access to clean and safe restrooms nearby?
Does the space have plenty of computers, printers and other learning tools? Is there a library with a broad selection of fiction and non-fiction books for kids of different ages?
It's also advisable to ask each program director, or alternatively the senior staff member in charge, the following questions during your site visit:
What are the program hours? Can parents sign up for specific days of the week, or must they commit to the whole week? Is the program open only during the school year or also during holidays?
How much does the program cost? Is payment due in full up front or on a monthly basis? Will parents be charged a late fee if they're late for pick-up?
Does the program follow a specific teaching and learning philosophy? Is there a daily routine that all the kids follow, or do they have lots of choice? What is the age range of the kids?
What is the staff-student ratio, and what kind of credentials does the staff have? Are they licensed and certified teachers or otherwise educated and trained to take care of kids? Is the staff certified in CPR and first aid?
Does the staff meet with parents to discuss their kids' specific circumstances and learning goals? Does the staff offer parents feedback on how their kids are doing?
Does the staff monitor the kids when they're doing homework and offer help when needed? How does the staff handle behavioral issues, and do they mediate in conflicts among the kids?
Do the kids get a nutritional snack and time to play before they start doing their homework?
---
Tanni Haas, Ph.D., is a professor in the Department of Communication Arts, Sciences, and Disorders at the City University of New York — Brooklyn College.