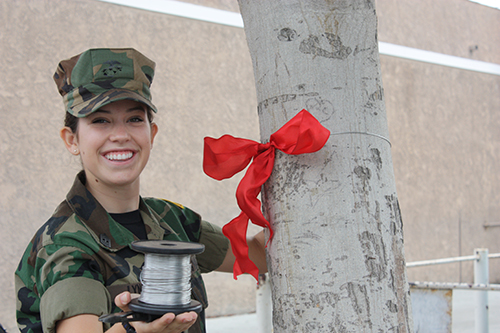 Megan Lynch just wanted to do whatever her big brother was doing. But unlike most 9-year-olds, she joined her brother in the Young Marines.
She's followed. She's led. She's learned and given back. She's also National Young Marine of the Year.
Now 17 years old and a sergeant major in the Southeast County Young Marines, Lynch has been with the organization almost half her busy life and is grateful for every bit of it.
"Each drill taught me something new," says Lynch, of Fountain Valley. "Which I then wanted to spend more time learning, outside of drill."
She discovered a love of teaching and helping fellow students, which led to her involvement in helping design an app for Young Marines that allows them to reference their guidebooks through their phones. But it is facing challenges themselves — whether mental or physical — that she continues to find the most satisfying.
If Lynch seems particularly driven for a teen, it's because she is.
"My weeks are very busy," she says.
Lynch completes her homeschool classes online through Inspire Charter School, while her YM program typically requires emails, planning, prepping, and giving speeches. Running the organization's Leadership Symposium allows Lynch and others to talk about ways to improve their program and present those ideas to leadership. She's also vice president of her Bible club, a member of the scuba club, Spanish club and the Fellowship of Christian Athletes.
Lynch considers herself "blessed" as the 2019/2020 National Young Marine of the Year, but also says she worked very hard.
"Truly, this journey started from the beginning. Every rank I held, leadership school I attended, and opportunities offered, led me to create the connections, friendships and experiences needed in order to gain the confidence necessary to compete for this role," she says.
Lynch beat three others in the Western states in oral exams, and her speech in Florida to 400 people at the Adult Leaders Conference in May clinched victory.
Part of her duties recently included the extraordinary experience of escorting Iwo Jima veterans, Guam veterans and Navajo code talker veterans to Remembrance Day ceremonies.
"On the island of Iwo Jima, we spent just six hours touring and participating in the memorial ceremony," she says. "The day is long, the hike up Mount Suribachi is very hard, and the experience is profound. All over the island, you can see men's service dog tags, weapon parts and broken ships in the water that leave an indelible impression on everyone. We honor [code talkers] by doing community service to help their land and give back. We also participate in the parade and meet the code talkers who remain. These men left a resounding impact on our character."
But Lynch is leaving an impact as well.
"Megan Lynch is an exceptional individual," said retired Col. William P. Davis, national executive director and CEO of the Young Marines, in a news release. "She's proven herself a dedicated leader. When we traveled to Iwo Jima, I was able to see firsthand what an outstanding Young Marine she is. She will be a fine ambassador and spokesperson for the next year."
Lynch tries to spread the credit around.
"Anybody can be a leader," she says. "I have had many mentors and role models both adult and other Young Marines growing up through this program. The three things I value most are passion, positivity and productivity. To be an effective leader you also have to understand what it means to be a follower. No one is a perfect leader right off the bat."
By Shawn Price