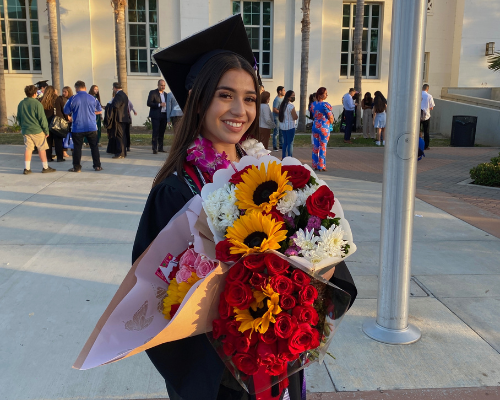 Local teen honored for her extreme dedication to the Big Brothers Big Sisters program.
Natalia Leon wasn't sure she had enough to offer young kids who could benefit from extra guidance. After all, the Santa Ana resident was 15 at the time and still growing up herself. Fast-forward three years and not only has she been a successful mentor through Big Brothers Big Sisters of Orange County and the Inland Empire, her efforts and dedication earned her the title of High School Big Sister of the Year and a college scholarship.
"Both of her Littles were greatly impacted by Natalia's activism toward making a positive change in her community," said Site-Based Program Specialist Evelin Soto. "Natalia's growth mindset encouraged everyone that surrounded her."
Leon knows firsthand what a difference a good mentor can make, citing Soto and a college counselor as significant influences in her life. When she learned of the organization and its high school program — which pairs teens with elementary school students — she decided to set an example. Her first match, known as a Little in the Big Brother Big Sister world, was a 9-year-old girl. The two clicked immediately over a similar drive to accomplish as much as possible in life. They spent the next three years meeting weekly at Santa Ana's Diamond Elementary for a mix of studying and fun.
"She always wanted to bring positivity to the people around her," Leon said. "I'm personally like that, and I wanted to bring positivity to my community and be able to change mentalities, and that's what she did."
When her first Little moved on to middle school, Leon was paired with an 11-year-old boy. The connection took a little longer as the boy was going through hardships with his family, but Leon opened up about her life, and the two started to form a bond. Over time, she encouraged him to have a good attitude, advocate for himself and do the right thing. She says his attitude started to change, and soon he was sharing stories of school accomplishments and a better situation on the home front.
"I feel like they [both of her Littles] needed a support system, someone to speak to about these things, and I was offering that to them," Leon said, recalling the rewarding feeling of seeing the kids' academics and family relationships grow. "Now that they felt like they were supported, and that they have someone there for them, they were acting out of kindness and they wanted to be better because they felt like they were listened to."
---
Related Posts:
---
Family issues and changing mentalities is something Leon, the first woman in her family to go to college, knows all too well. While she pursued a high school diploma and three associate college degrees at the same time, she didn't always feel the support of her loved ones who encouraged her to just have more fun and be a kid.
"Education for them, it wasn't that important," she said. "But for me, if I want to have a good, decent job, I need to do this for myself and no one's going to help me get there unless I put in the work."
And put in the work she did — rigorous, time-consuming and stressful as it was — accomplishing her goals and gaining the understanding of her family members who are now proud of her.
"I did try to make the best out of growing up and still being a child, but when you're taking college classes, professors are going to treat you as an adult," she said. "None of my family understood me until now that I'm graduating, and it really did pay off."
The 18-year-old recently graduated from Middle College High School in Santa Ana and Santa Ana College just a couple days later. She's now headed to California State University, Fullerton to study business administration. And while she's considering stretching her time on campus to three years instead of two, she's already getting a head start by taking college classes this summer. She also sees more volunteering and giving back to the community in her future.
---
By Magda Hernandez