District officials, educators and families navigate their way back to school for fall on a road paved with uncertainty.
It's normal to be nervous about the first day of school, but back-to-school jitters are amplified this year, as an unparalleled pandemic creates uncertainty surrounding the 2020/21 school year.
The apprehension parents and students are feeling isn't lost on educators. Teachers and administrators are facing unpredictability as well as they navigate conflicting COVID-19 guidelines, and learning gaps. "I can completely relate," said Erin Klopfer, a teacher in the Fullerton School District.
According to a 2020 Back-to-School Survey conducted by Deloitte, 66 percent of K-12 parents in the U.S. are anxious about sending their kids back to school and 52 percent of parents are unsure how school will start. "Remember that we are all in this together," Orange County Superintendent Dr. Al Mijares told Parenting OC back in May. "The No. 1 priority of OCDE and Orange County schools is to ensure the safety and well-being of students and staff."
Still reeling from the transition to distance learning in March, faculty is taking this time to establish a plan of attack for fall. "Teachers will do everything in our power to keep your children safe at school," said Christina Hanna, a sixth-grade teacher in Irvine Unified School District. "Unfortunately many districts are still releasing guidelines and procedures, so it is hard to predict what the new year will look like."
MASKS OR NO MASKS?—SHIFTING GUIDELINES
Creating those guidelines and procedures has been challenging considering how quickly guidelines can change. In June, the Orange County Department of Education released operational guidelines for Orange County's public schools, along with a checklist and attestation. "Orange County Together: A Guide to Safely Reopening Schools in the COVID-19 Era" was approved by the Orange County Health Officer on June 12, 2020, and updates to the guide have been made as needed since then. (At press time the last update was made on July 17.)
"Orange County Together"breaks down guidelines into four categories titled Healthy Hygiene Practices, Maintaining Healthy Environments, Maintaining Healthy Operations and Preparing for When Someone Gets Sick. Over 55 tasks and sub-tasks are listed to be completed and checked off. The checklist was created to meet the OC Health Officer's orders that all businesses, industries and entities that reopen in Orange County post an industry-specific checklist and attestation at a visible location at the public entrance of the property. The resource stresses "the importance of social distancing and face coverings when social distancing measures are difficult to maintain."
Then on July 13, the Orange County Board of Education, which is a different agency from the Orange County Department of Education, voted on a return to in-class instruction, without masks or social distancing in a 4-1 vote, raising the eyebrows of district officials and causing confusion in the community. Ultimately, however, the OC Board's guidelines are nonbinding and, stated Mijares, "locally elected school boards and superintendents will approve and implement plans specific to their districts based on the needs of their schools and communities."
"It is difficult to predict the future of re-opening schools in Orange County. There is much fear in our community," said Orange County Board of Education President Dr. Ken Williams. "We stand divided on what is best for our children. Children represent the lowest cohort or risk group for the COVID-19 virus, but I validate the concerns parents have about their children seroconverting, or getting infected." Williams also said that restoring and increasing parental rights and expanding education and charter school choice are among the OC Board of Education's top priorities for the 20/21 school year. As of press time, the OC Board of Education announced a planned lawsuit against the against California's governor and public health officer.
DISTRICT-BY-DISTRICT DIFFERENCES
As school plans are announced, the implementation of proposed guidelines may look different from district to district. A statement on the La Habra City School District site from Superintendent Joanne Culverhouse stated that the Orange County Board of Education's recommendations are not binding and La Habra City School District would not open under those conditions. "The health and safety of our staff and students will guide the decisions we make for re-opening our schools. We continue to work with our task force, associations and the Board of Education to determine what is best for our district," Culverhouse said.
Capistrano Unified School District (CUSD) Superintendent Kirsten Vital also confirmed their plan would follow state recommendations. "We are utilizing guidance from the California Department of Public Health on our re-opening plan," said Vital.
A July 16 email response to Parenting OC from Huntington Beach City School District read, "We are currently compiling our parent survey results and plan to move forward with announcements once our board has a chance to openly discuss this topic next Tuesday."
But almost as quickly as re-opening plans were being released, they were also being modified. The Santa Ana Unified School District initially approved a re-opening plan that allowed parents the option of having their children take all classes online or utilize a hybrid of online and in-class education. But a press release on July 14 announced a change. "Santa Ana Unified School District will pivot entirely to distance learning to start the upcoming school year out of concern for the safety and well-being of the entire community," the statement read.
"During these challenging times, the safety of our school community continues to be our top priority. While we hope at some point to have students attend our schools alongside their classmates and teachers, now is not the time," said Superintendent Jerry Almendarez. "Meanwhile, we are working to develop a rigorous distance learning plan that will allow students to continue their education at home."
WHAT PARENTS WANT
As coronavirus cases surged, districts polled parents and navigated opposing guidelines. It seemed most districts favored options for families with choices ranging from 100 percent on-campus learning to 50 percent on-campus learning and 50 percent home supplementary activities or 100 percent online with teacher support. Fullerton School District, Capistrano Unified School District and Newport-Mesa Unified School District had all announced re-opening plans that utilized their own versions of a hybrid model in early July.
Then during an afternoon briefing on July 17, Gov. Gavin Newsom announced that Orange County schools, and other campuses on California's COVID-19 watch list, would start the year with distance learning rather than in-person instruction or hybrid models.
"Learning is non-negotiable," Newsom said. "The virus will be with us for a year or more, and school districts must provide meaningful instruction in the midst of this pandemic. In California, health data will determine when a school can be physically open — and when it must close — but learning should never stop. Students, staff and parents all prefer in-classroom instruction, but only if it can be done safely."
Districts were forced to pivot yet again. "The Tustin Unified School District will open the 2020/21 school year in a distance learning model for all students on Thursday, Aug. 13," said a July 17 email to staff and parents from Gregory A. Franklin, superintendent of Tustin Unified School District. "Eventually, schools will be able to re-open with in-person instruction."
Fullerton School District also notified staff and parents on July 17 about plans to re-open with distance learning only on Aug. 11.
"CUSD is now required to open 100 percent online," Vital said in an update on the CUSD site after Newsom's announcement. "We understand that many CUSD families prefer to return to school. If and when the governor lifts the order, the plans we have developed over the last three months will allow us to quickly adapt to re-opening our classrooms and campuses."
In a statement released on Newport-Mesa Unified School District's website, Acting Superintendent Russell Lee-Sung said, "If Orange County does not meet the state criteria to allow for re-opening, Newport-Mesa Unified School District [will] implement 100 percent distance learning, which is Level 3 of the 3-Level Plan."
THE STATE PLAN FOR SCHOOL OPENINGS
The governor's plan is broken down into five tenants.
• The first part of the plan addresses safe in-person school based on local health data. Schools can provide in-person instruction only when their county has been off of the monitoring list for 14 consecutive days.
• Strong mask requirements for anyone in the school. All staff and students in third grade and above will be required to wear a mask or face covering. Students in second grade and below are strongly encouraged to wear a face covering.
• Physical distancing requirements and other adaptations, and requires that all persons maintain a 6-foot distance at all times.
• Regular testing and dedicated contact tracing for outbreaks at schools and makes recommendations for staff in every California school to be tested for COVID-19 periodically.
• Rigorous distance learning.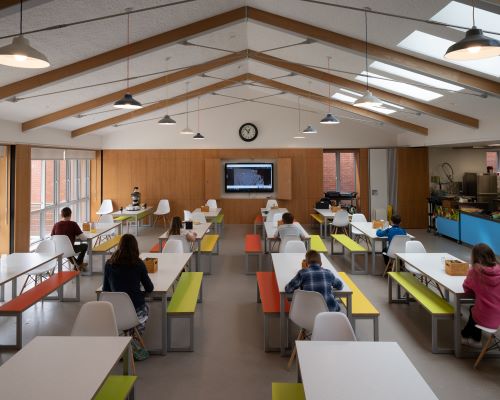 THE DISTANCE LEARNING HURDLE
The state is providing $5.3 billion in additional funding to support learning and set requirements to ensure schools provide rigorous and grade-appropriate instruction. It's support some school districts lacked in spring when they hastily had to make the transition to distance learning.
"Moving from a traditional classroom to being an online teacher 100 percent overnight was a challenge. But my district has been above the technology curve for years," said a teacher in the Tustin Unified School District who spoke on the condition of anonymity. "Each student was already equipped with a device to take home and students/families who did not have WiFi access at home were given a mobile hotspot to be able to connect."
The governor's plan makes providing devices and connectivity to every student a requirement. School districts will also be required to provide daily live interaction with teachers and other students for every child.
"Students need support from their teacher and they need to have their voice heard in the classroom," said Lacy Knight, a sixth- and seventh-grade teacher in the Norwalk-La Mirada Unified School District, located in adjacent Los Angeles County. "Children, specifically middle school children in my experience, are very vulnerable. A huge change like shutting down school was hard for even my most successful students. It's important that I find a way to build community with my students so that they feel that support from me even behind a computer."
The hope is that this requirement for schools to commit to a diligent curriculum will help bridge the large learning gaps that only stand to widen if distance learning isn't improved. According to the Deloitte survey, only 56 percent were satisfied with the education students received this spring.
Attendance was spotty during spring's school closures and the Los Angeles Times reported that roughly 15,000 high school students in Los Angeles Unified School District did not log in to any online learning during the first two weeks of school closures back in March. An April study conducted by the Northwest Evaluation Association Collaborative for Student Growth used established summer learning loss data to project that students may return to school in fall 2020 with less than 50 percent of the learning gains in mathematics.
"I believe we will be giving students a formative assessment created by the district office to all students upon returning to school for both math and English," Hanna said. "This will help us identify the potential learning gaps and as teachers we will work to address those. Most teachers are aware that a great deal of remediation will probably need to occur this year."
HOW PARENTS CAN PREP THEIR STUDENTS
There are ways parents can also help begin setting their child up for success now. Talking to children about what school might be like can help them adapt. Teaching them about how germs spread will protect them at home and when they return to the classroom.
"It's important for parents to teach their students about the importance of wearing masks and about washing their hands," said Hanna. "If the message is reinforced at home, it will make it easier on teachers at school."
Besides reinforcing healthy hygiene practices, parents can also reinforce learning habits. "If parents are able to review key concepts learned the prior year, that would be great as well," Hanna said. "For example, my boys were in first and third grade this last school year. I am making sure they are both reading through the summer and practicing their math facts."
It's also important to address your child's emotions. "Recognize your child's feelings about coming back to school … be in tune with their behavior as well as their consumption of social media and news posts, and whenever possible offer that calm voice and hug," said Klopfer. "They need it, even if they say they don't."
If you are still unsure about the 20/21 school year, Knight recommends reaching out to your child's school or teacher. "Even in a 'normal' year parents feel apprehensive and are usually put at ease after talking to a teacher and learning more about the expectations," Knight said. "I want all parents to know that although we might not know exactly what is in store for the next school year, we know that district's are working hard to make sure their decision is in the best interest for everyone."
EDITOR'S NOTE: Due to the lead time in publishing a monthly magazine, some school plans cited in this article may have changed since press time, and parents should consult their district's and school's websites for the latest.
---
By Sarah Mosqueda