Local music instructors offer a modern twist on band camp.
Bob Marley opened his classic song "Trenchtown Rock" with the words, "One good thing about music, when it hits you feel no pain."
He meant it was a salve against the troubles of the world. But Marley, a towering international musical hero even decades after his death, also used it as a powerful force that brought people together and lifted them up.
Over the years, we've also heard about the so-called "Mozart effect," and other studies that linked music with higher tests scores and higher IQ. Even Albert Einstein frequently played piano or violin while he did his work in physics.
Music can be a lot of things, and the only ones who might get more out of it than the listener is the person playing it. While your kids needn't be Marley, Mozart or Einstein, the benefits are proven: It's good for you, and it's fun.
So when a kid walks into a music camp like Tustin's School of Rock or Santa Ana's Sounds of Color Studio, it's a chance to change their life.
"They step into a space full of music, instruments and photos, and LPs by great artists," says Jordan Heimburger, general manager of School of Rock. Typically, kids see the studio for the first time as part of a free trial lesson or class, but it's important to him the kids and parents "know where everything is and what to expect."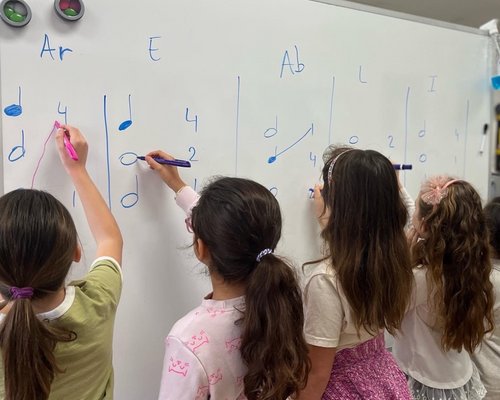 Bri Harb, owner and CEO of Sounds of Color, says, "They shout — 'This is like Disneyland' — because it's so colorful, so much to see and so much to do. They'll say — 'All the fun stuff I love' — because it's the place where they create and make mistakes and can color trees purple if they want."
They tour each room of the studio, Harb says, "from the art to piano, musical theater, dance and fashion rooms. They get the privilege to strum the full-size double bass, the harp, the cello and the rest of the string instruments, the ukulele and guitar."
The two schools provide a slightly different take on music camps, emphasizing creativity and togetherness over simple instruction, though kids do get a chance to learn a lot in a week.
One typical stop on that first studio tour, Harb says, is when the kids ask about the kids in the photos on the wall. They are the proudly framed memories of her previous exploits, "of the children I worked with during my medical mission to Tanzania where I did music and art therapy with them before and after surgery."
The implication is not too subtle: Music has the power to heal, too.
But the weeks here in Orange County are a flurry of activity for both schools.
Harb says summer camps feature daily lessons that build to a performance on Friday. Daily camp includes three hours spent on reading notes, music games and sight reading all in a group environment. Mondays is Mozart, followed by Tartini Tuesdays, Wagner (or John Williams) Wednesdays, Tchaikovsky Thursdays and Faure Fridays. Whereas during the regular fall and spring classes, piano students meet just once a week for 30 minutes or an hour, depending on what they sign up for and recitals are twice a year.
And since new kids are always coming in, she says it really provides them "socializing time."
"Our camps are an immersive week-long experience," Heimburger says. "Students have the opportunity to get a lot of practice and playing experience in a short period of time. With a full day of music Monday through Friday, total beginners can get a few songs under their belt, and students with some experience can really level up their playing and knowledge in just a few days. Students often form friendships quickly too, since they're spending several hours each day with their bandmates."
It's a system designed less for molding prodigies, and more about developing happy, healthy kids.
"The most important thing is a willingness to try," Heimburger says. "The benefits of music education are significant, so there's a lot to gain here even for kids who are just dipping their toes in the water. For kids who haven't played before, they'll be able to dive into learning songs right away and experience making the sounds they love to hear. Big picture, though, this is a place for all kids who are open to music and willing to give it a try."
And the value of playing music together — whether rock, classical or jazz — is an essential element in both camps.
"Playing in a band is the primary focus of our summer camps," Heimburger says. "It's not the only activity we do, but we focus the camp week around learning songs and preparing for our Friday camp concert. Having songs and a concrete goal to work toward —the concert — motivates the progress our campers and students in our year-round programs make, and we put the proof right on stage at the end of the week."
For Sounds of Color Studio, variety is important too.
"From duet to trio to ensemble," Harb says. "Where all four to six hands are playing at some point together, as an accompaniment or a round or all together. Sometimes, we have the vocalist accompany the piano students as well."
And regardless of style, both camps bring a message of accessibility to the kids who come to learn and play.
"Music is a universal language," says Harb. "Whether they speak English, French, Spanish, Mandarin or Vietnamese, they all are able to read the notes, play and enjoy the music camp together."
School of Rock even utilizes a certain punk rock DIY approach. Pick it up and play.
---
Related Posts:
---
"We have an opportunity to demonstrate to our students that they're capable of being a musician — really prove it to them in the span of a few days. Especially in the case of beginners, getting over the initial doubt of whether or not they 'can play' is huge.
"There's also something unique and really special about making music with other people in real time. It's an opportunity to learn teamwork in a non-competitive setting where everyone is invited to add something to the mix," Heimburger says.
Kids suffered much of the worst effects of the isolation and disruption that came during the heart of the pandemic. The effects of bringing kids together in a musical setting can be dramatic.
"In a rock band, there are roles suited to all different personality types and interests, so there's an opportunity for kids in a lot of different places socially and emotionally to fit in," Heimburger says. "Maybe they're the bombastic drummer, the quiet bass player, or the singer putting on a big show. All the pieces are important and fit together to create the music, so students have a chance to participate with their peers in a way that's hopefully comfortable for them and where they feel valued.
"Sometimes students fall into roles in the band in ways you would expect, like the talkative kid is really outgoing on stage, but I've also seen it happen a lot of times where kids get in the band room and transform. At the end of the week, the kid who was painfully shy is screaming punk rock lyrics into the mic because being in a band gives them the permission to get that energy out."
Harb thinks music's ability to ease anxiety is critical.
"The pandemic has affected our children tremendously, especially the children who already suffer from social anxiety and fears or any emotional distress," she says. "Being in a group environment and/or music lessons helped them support each other, encourage each other. Learned to take a deep breath, relax and listen, especially when feeling anxious/nervous or distressed.
"They sit and improvise with their little fingers and create songs and pieces, music that they can relate to from their electronic games/favorite shows/movies … and talk about it," Harb says. "They introduce themselves in front of each other, what they will be playing, where the idea came from. All in all, they connect and they feel they all share things in common, and music ties all this together in a laugh and joke and happy end of a day."
So, short of a recording contract, kids leave the camp Friday afternoon with a new sense of self.
"I've seen kids who maybe hadn't found 'their people' yet, find their social group at School of Rock," Heimburger says. "I've also seen kids write and perform really compelling original music, learn a whole new instrument and get pretty good at it in a week. And they encounter new bands and genres of music that excite them."
Harb tries to add one last thing onto the pile.
"On Friday, show day, we invite the parents," she says. "First thing I tell the campers to say is thank you to their parents too or whoever signed them up to the camp and enrolled them, so they learn gratitude as well."
---
By Shawn Price