Celebrate Your Nomination or Win
If you have been nominated, or you have been chosen as the final winner, share the link to the Reader's Choice Ballot with your Families.
You can do that through your social media, your newsletter, on your website or in a unique e-blast.
Getting the word out during the Call for Nominations and the Voting Period is critical. You need all the votes you can get to be the top nominee or eventually the final winner!
Your sales media professional from Parenting OC is happy to help strategize with you on getting the word out.

www.facebook.com/parentingocmag |

twitter.com/parentingocmag |

www.instagram.com/parentingocmag
Thank the Readers
Be part of the Annual Reader's Choice Special Issue, which publishes in September 2023, with your message to the readers: "Thanks for Voting Us as Your Family Favorite." You have earned the right to use the Award in all of your marketing.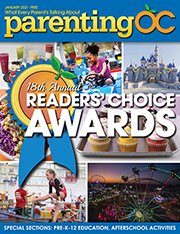 ---
Additional Information