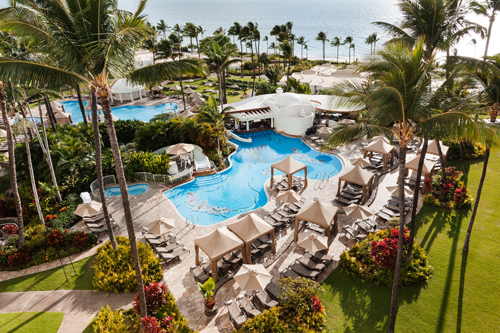 There is a reason the phrase "Maui no ka 'oi" is emblazoned across every beach towel, trucker cap and coozie in the airport shops of this gorgeous island — Maui IS the best. And where is the best place on Maui? Well, them's fighting words…but Wailea certainly makes a convincing case for the honor.
This is the land of luxe, a land of spotless crowd-free golden beaches, crystal clear turquoise water filled with graceful sea turtles, perfectly manicured paths bordered by blossoms in abundance, where the air smells of plumeria and ocean breeze. If you want a foolproof and memorable vacay for your ohana, look no further.
Fairmont Kea Lani
The hallmark of the Fairmont brand, excellent service and those signature breathtaking lobbies, is evident from the moment you arrive, with an extra helping of Aloha spirit thrown in. In fact, while wandering the property it would be rare to pass an employee without receiving a warm "aloha!" as you pass. The hotel even recently earned the "Hotel of the Year" award, post-70million dollar renovation.
Two activity pools connected by a 140ft waterslide are home to wellness classes, fun kid events and plenty of in-pool basketball and volleyball options. However, parents will be excused if they pass on the hula lessons for the serenity of the adult-only pool or swim up sushi and a frozen "Chee Polo" (finlandia vodka, island-grown basil, coconut cream, pineapple, lime) at AMA. Luckily, included Keiki Club activities keep kids happy and engaged as they learn about the culture of the island and play. (Parents can even escape for a romantic meal or to go on a dive trip or champagne sail.)
Views from the room might tempt you to stay put on the expansive lanais (many even boast multiple loungers and a table to enjoy in-room breakfast). However if you really want to shake off the stresses of real life, a trip to the excellent Willow Stream Spa is in order. Outdoor spa garden cabanas allow for massage and body treatments al fresco as the tropical birds twitter around the flowering bushes.
Visitors can prep for their treatment with complimentary spa mud body masks, hand crafted in several varieties to address skin woes such as sunburn, drying from a long flight or uneven texture from tough workouts. Three different rain rooms in varying temps and intensities wash the dried mask leaving your pores ready to absorb the goodness of your treatment. (We tried the amazing Pa'a, a Moloka'i clay salt scrub and coconut oil rub down enjoyed in a waterfall suite on a unique wavemotion table.)
Wellness is a theme throughout the resort, which is anything but restricting. Caffe Ciao Bakery + Market is a gem with healthful gourmet takeaway. Yoga and other classes are offered under the flowering trees with views of the sea, and noted menu items would never be pegged as healthy. Award-winning Ko's (korestaurant.com) steamed Ti-Leaf Local Ma'kai Catch set in a bowl of sweet, spiced coconut milk was positively indulgent. Executive Chef Tylun Pang was given the Best Hawaiian Regional Cuisine nod for good reason, giving a farm fresh spin on classic island faves. The Ahi on the Rocks dish will thrill kids as they self-sear chunks of sushi grade ahi on a sizzling black rock right at the table.
Another stellar option for a sunset dinner is Nick's Fishmarket Maui (www.nicksfishmarketmaui.com). This Valley Isle outpost of the popular Oahu seafood spot offer daily dishes featuring Hawaiian pink snapper, mahi-mahi, yellowfin ahi tuna and spiny lobster. The addictive Ahi Poi Pounder (globe of Blue Crab Salad encased in YellowfinTuna Carpaccio, with Wasabi Aioli, Soy Glaze and Maui Avocado) and Opakapaka Picatta (pink snapper sautéed in lemon butter and capers over sweet potato hash) were two favorites. The 2,000 bottle wine cellar ensures all your OC faves will be on hand to enjoy.
www.fairmont.com/kea-lani-maui/
---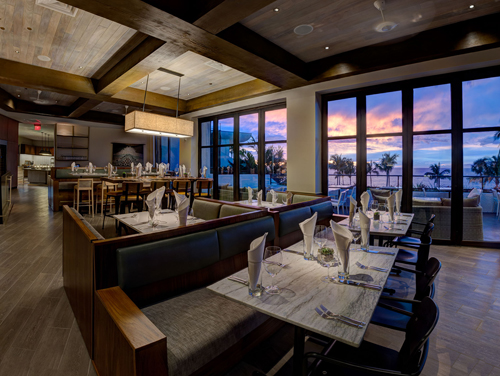 Wailea Beach Resort
Entering down a winding tree-lined canopy drive into a secret garden of towering banyan trees, swings, and lounging pods reminiscent of a mystical fairyland certainly kicks off a stay at this sleek, reinvented resort in the right spirit. Though this hotel has bragging rights as the first resort in Wailea, you could hardly believe the claim after its recent massive renovation.
Clean lines, fresh breezy décor and soaking tubs make rooms a comfy oasis…that you'll have no interest in enjoying. With or without kids, you'll be spending most waking moments poolside. For parents, modern infinity pools dotted with luxe canopies and loungers separate the mature-minded crowd from the bustling family-friendly NALU Adventure Pool on the opposite end of the property.
Splurge on a day in a cabana and you'll be treated to local fruits and lavender honey yogurt as well as a credit that can score you some tasty handmade Mai Tais or just-caught fish tacos. (At the Ohi Pool, request Oceanfront Cabana #1 for no neighbors and a great view of the West Maui Mountains). The only time the serenity is pierced is by the sweet and smooth voice of guitarist Glenn Awong as he plays Hawaiian favorites to ring in Pau Hana (local happy hour) as the sun sets.
Meanwhile, kids can meet new friends during group activities at the kids club or hit the impressive game room that sports foosball, a pool table, a half dozen set ups for complimentary Xbox fun, ping pong and a wealth of board games. Another popular spot is the beautiful movie theatre, with rows of bean bags to lounge while catching Moana, Stitch or Finding Nemo.
But, as already mentioned, the likelihood you will pull them from the NALU pool until they are head-to-toe pruney is nil. Families can climb a massive tiki structure for a spin down the twisty slide, or hop off convincing lava and volcano-like structures and sluices. When those tummy rumble, a stop at the Mo Bettah Food Truck for a shave ice or poke bowl, satisfies. The Hawaiian water park closes just in time for dinner or an evening at the onsite Luau.
Te Au Moana ("The Ocean Tide") luau show has all the classic favorites, fire dancing, talented musicians, exciting dances with a myriad of costumes. The event starts with complimentary interactive tables where families can learn about traditional arts (or buy some from a handful of curated artists) while getting a tattoo, flower placed in their hair, lei strung around their neck, watch the buried pig emerge from its oven and more. The bar stays open through the entire affair and an engaging host explains the traditions of the local islanders.
Starbucks, the only in Wailea, lives here, but the real hero when it comes to eats is adjacent to the lobby. Humble Market Kitchin is an ode to celeb chef Roy Yamaguchi's family roots, which started on the plantations of Maui. The Pacific Rim fusion he is known for continues here, where the sweet and savory flavors he recalls from his childhood are combined with the freshest of sustainable fish and seafood and top quality cuts from well-regarded ranches. The generous Hamachi Ceviche with avocado and Serrano chile, Crispy Brussels and Cauliflower with sprinkling of pepitos, and Black Truffle Crusted Ono with Charred Carrot Kona Lobster Sauce are not to be missed. (The melt-in-your-mouth short rib and crisp-and-creamy Misoyaki Butterfish will also be familiar to Roy's fans, earning a spot on this new concept menu.) Toast the sunset and incredible Molokini, Lanai and West Maui views with an Upcountry Love, with Grey Goose and Kula lavender.
www.waileabeachresort.com
---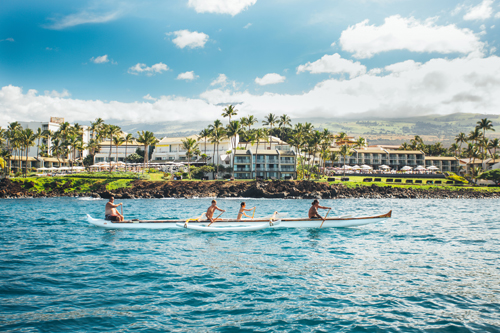 A Swimmingly Good Time
The one thing that truly draws this area together is the beautiful ocean. A convenient mile and half long walking path connects the various resorts and beaches of Wailea. Grab a snorkel set and discover a gorgeous array of colorful fish…and just how close the turtles might venture toward the beaches. For those looking for a more unique way to explore, these were a few of our favorites.
Maui Dive Shop Molokini/Turtle Town Two Tank Dive
Maui Dive Shop has a long history of quality dive gear, training courses and safe, professional tours to the best dive sites on the island and beyond. [Editor's Note: I actually became a PADI Divemaster with and worked on the MDS boats nearly twenty years ago, so can attest to this recommendation!] This duo is a perfect one to explore the half submerged crater that you'll look out on each day, and a huge likelihood to spot turtles along the hard to reach Wailea coast. Trips are held in early morning before trade winds rise and make the sea choppy, so this is good to sneak in before the rest of the family is up for the day. A MDS van will pick you up and bring you to get sized for gear before you head out, also providing a breakfast of coffee, bacon and baked goods and lunch for your trip home. We saw a wide variety of fish life, some rare, many eels and octopi on our first dive. On our second dive in Turtle Town, we (naturally) saw a number of turtles and even got to enter a bubble cavern where we swam to an air pocket to briefly surface. John the Divemaster was very knowledgeable, good at spotting critters, handled inexperienced divers well and led us to above average visibility for a great day of diving.
Wailea Scuba, Surf & Paddle
A great way to connect with the kids or add a dose of adrenaline to your lazy lounger days, is to learn how to surf, SUP or scuba together. This well run outfit has you covered, with classes for beginners and rental gear for those already experienced or certified. One of the most unique ways to enjoy the water are by renting the shop's variety of scooters, for both pool and ocean. The pool variety hold an hour or so charge and can be used to zoom your keiki's around the pool. The larger sea-based scooter allows a three hour charge and will help you reach good snorkel spots in a splash, er flash. "Scuba Steve" offers an amazing experience for certified divers, using a high powered underwater scooter to propel along the sea floor wearing dive gear. Once you gain some experience, you might even be able to hug the machine with your knees and perfect your "superman" flight pose.
Outrigger Canoe Tours
There are a number of companies that offer this experience. (The Fairmont Kea Lani even offers a one hour tour free, several times each morning, but you need to book when you book your room as it quickly fills.) Your family boards a classic canoe, built with an outrigger for added stability on the waves, with a lead and steersman paddler guiding you along the coast. Some tours are just paddle trips, while others offer a snorkel stop.