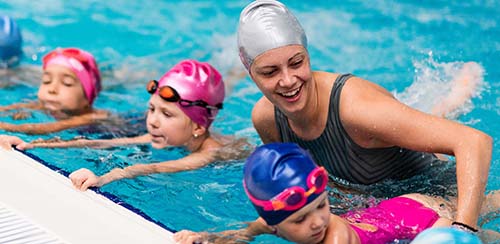 Warmer weather means more trips to the beach or the pool. Children and adults of all ages will flock to the nearest body of water for vacation, parties and celebrations of all kinds. While it's important to get out, soak up some vitamin D and get wet, it is also vital to remember the rules of water safety.
According to the Orange County Health Care Agency, drowning consistently remains the leading cause of death for children 1 to 4 years of age, and among the top five leading causes for those under the age of 18 years, both in California and in Orange County. The USA Swimming Foundation reported nearly 90 children younger than 15 drowned in a pool or spa from January through May 2018, and every year about 19 children drown during the July 4 holiday alone. These accidents can happen anywhere too—74 percent of drowning incidents for children younger than 15 between 2015 and 2017 occurred in residential locations, according to the Consumer Product Safety Commission.
Don't let the numbers scare you as a parent or guardian, but rather motivate you to learn how to be safe around water.
You can start by evaluating how your child reacts to water—are they brave? Overzealous? Scared? Every child is different.
If your child has a fear of the water, the best place to help them feel safe is at home. You can introduce them to water in areas they are already used to, such as the bathtub to get their face wet and splash water in their eyes. If they don't like it, make a game out of it. Blow bubbles or "talk to the fish" if they put their face into the water of a shallow kiddie pool. No matter what fun you bring to the bathtub, getting over those little fears, it is important to practice, practice, practice!
If your child seems brave (or even a little too brave!) about being in the water, consider starting swim lessons—the sooner the better. Starting your child swimming as young as possible is the ideal situation to ensure they are water safe and comfortable from a young age. After the age of 3, children can begin to transition into instruction with an instructor in a private, semi-private or class environment.
Before you sign up, no matter which swim program you choose, make sure you ask how long the session is, what will be expected of your child, and what the instructor-to-student ratio is. Parents (and students!) will feel more confident if they have clear expectations for the timeline of the swim program, and the expectation of the program, to make sure it's at the appropriate skill level of the child. Asking about the ratio of instructor to child is also key—at the preschool age, classes should have no more than five children for every one instructor. Too many kids means too many safety risks, even for a skilled instructor.
Swim programs should make clear the certification of the instructors and the curriculum. If it's not—ask! You can ask the instructor to outline the expectations before you begin, so you are comfortable with what they are working on. In most cases, by the end of a session, there will be a goal the student has worked toward. Whether that's dunking their head, floating on their back or even jumping into the pool solo, there should be something for your little swimmer to work toward each time they take a lesson.
At the YMCA, there are three basic skills that we teach our kids to know around water:
SWIM, FLOAT, SWIM: This means a child is in the habit of swimming, then taking a few breaths to recover and rest, before they start to swim again. It's a foundational repetition.
JUMP, PUSH, TURN, GRAB: This means when you jump (or fall) in the water, swim to push off the bottom of the pool, then turn to face the nearest wall, and reach out and grab it.
REACH AND THROW—DON'T GO: When anyone, at any age, falls into the water, don't "go" into the pool after them. Instead, find things for them to reach for—a towel, a pool noodle, anything they can grab onto quickly.
How To Help Floating
If your child is not comfortable in the water the first thing you will want to do is introduce their ears to being submerged, which may be an uncomfortable feeling. While in the bath you can have them lay on their back and slowly guide their head into the water. The more comfortable they are with their ears in the water the easier it will be to teach them how to float.
If your child is a little more comfortable in the water, you can introduce a few skills to help them practice back floats. Work on a back tow, where the child is resting their head on your shoulder while they are floating on their back. While they are doing this, slowly walk backwards to help keep their stomach and hips up. If you feel as if they are becoming more comfortable, you can slowly start to bring your shoulder away from your child and letting them practice independently. While floating on the back we want to reinforce three body positions, those being: chin pointed up to the sky, belly up to the sky, and having their arms and legs on top of the surface and spread out.
Things To Keep In Mind
Body Position: Ensure that whenever they are on their stomach their faces are in the water and their feet are at the top of the surface. Same for when they are on their back, their chins pointed up, and feet and belly are on top of the surface. Some easy tips to ensure this is happening: Walk in front of the child with your feet below their face and tell them to count your toes. Put rings or toys on the bottom of the pool and tell them to identify the color or animal that the toy is.
Kicks: Introduce regular freestyle kicks and make sure that each time they kick that their toes are coming out of the water. We do not want their whole leg out of the water, just their toes or feet. Some easy tips to teach this: Have them hold onto a wall and kick their feet for them to have them get the feel for it. Tell them to make splashes on the water with their toes and to "make drum noises" for the fish below.
Arms: Next, introduce the arms (this will help with forward movement). We teach them the front crawl arms as it is the least complex and easiest for younger children to pick up on. Make sure they are reaching as far out in front as they can and then bringing their arms behind them. When they get to taking their arms out of the water make sure their full arm comes out and reaches back in front. Easy tips would be: Tell them the pool is full of ice cream and their hands are ice cream scoopers and they are trying to scoop as much ice cream as they can. But since they are in the pool they have to put their ice cream into their pocket and save it for later. Next, teach reach for the sky or clouds. Tell the children that when they are about bringing their arms back in front we want them to reach up as high as possible and reach for the sky and grab the clouds.
Breath Control: Lastly we will introduce breath control, in the form of rolling over on their back. Taking the above tips for floating on their back and putting them in place here. Easy tips for rolling on their back: Tell them they are a Tootsie Roll and each time you tap their head you want them to roll onto their back, then when you tap their head again you want them to roll over on their belly. Or grab their right hand with your left hand and their left hand with your right hand and have them kick on their front. When you want them to roll onto their back, you will twist your hands and roll them onto their back.
This summer, whenever you and your family are around any body of water, keep a few final things in mind. First, parents and guardians should always take caution and be alert. Lifeguards are on duty to respond to emergencies only, so parents should continue to watch their child around the water. Second, flotation devices are not recommended unless they are Coast Guard-approved. Regular inflatable devices can slip off or pop, leaving your child unprotected. Last, but certainly not least, water and sunscreen are your best friends! Hydration is especially important as your body loses water through sweat, and sunscreen with UV protection will prevent burns and sun damage—especially for young skin.
Now, get out there and enjoy these months of sunshine and fresh air. The water awaits you.
---
Alec Modica is the aquatics director at the Mission Viejo Family YMCA. Alec has been with the YMCA for nearly six years in multiple positions. He began as a lifeguard and swim instructor, and after a year was promoted to the head lifeguard position. He holds the following certifications in the aquatics field: American Red Cross Lifeguard & Lifeguard Instructor, YUSA Swim Instructor & Instructor Trainer, and Certified Pool Operator. From a very young age Alec has been an exemplary swimmer and water polo player.